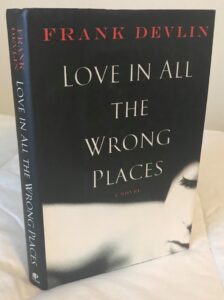 Farrington adopted the pseudonym Frank Devlin for his novel Love in All the Wrong Places, which features detective Rose Burke tracking down a husband-and-wife serial-killing team in San Francisco. Burke, whose marriage is in trouble, finds her midlife crisis complicated by pregnancy, the memory of her dead partner, and her new partner's growing attraction to her. Meanwhile, the killers, a depressed housemaker named Helen who beguiles men into having one-night stands, and her husband, who does the dirty work of disposing of the men afterward, prove worthy adversaries for Burke. Critics enjoyed Farrington's sympathetic portrayal of ambivalent female characters, who "are fascinating and somewhat disquieting to watch in action," wrote a critic for Publishers Weekly. A critic for Kirkus Reviews complimented Farrington's writing, saying that it "has the sensitivity to make you care about even his most unlovable characters."
https://www.encyclopedia.com/arts/educational-magazines/farrington-tim
Devlin introduces two intriguing, love-starved female characters—one a cop, the other a serial killer's wife—in this taut, stylishly written crime drama set in San Francisco. The wife is Helen, a bored-in-her-marriage, strikingly beautiful adulteress who lures single men into sexual liaisons, knowing full well that her husband, Jimmy, will kill her conquests. In pursuit of the killing team is Det. Rose Burke, a similarly complex woman, frustrated by her inattentive husband, unsettled by her pregnancy, still troubled by the death of her former partner. She's also a crafty, highly instinctual investigator who eventually keys in on tiny details in the string of murders and begins the arduous task of rooting out the killer. Devlin, pseudonym for novelist Tim Farrington (The Monk Downstairs ), casts neither woman in a particularly sympathetic light, yet they are fascinating and somewhat disquieting to watch in action. Both are drawn in fine, telling detail; Helen's crushing depression and tormented background and Burke's ambivalence toward career, marriage and domesticity are especially well rendered. The plot's tidy, convenient finale disappoints, but Devlin's fresh approach to the genre makes him a writer to watch in his new fictional persona.   
 Forecast: Fans of Farrington's quirky romances may not make the leap to alter ego Devlin's quirky crime fiction, but female thriller readers will appreciate Devlin's insight into the female psyche.
https://www.publishersweekly.com/978-0-399-15223-8